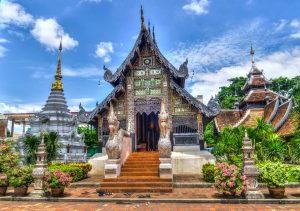 South East Asia is undoubtedly one of the most vibrant travel destinations in the world. A couple of decades ago, travelling to exotic places was a dream; people would have holidayed locally. These days, thanks to a wide range of low-cost flights and areas to stay, travelling is made more accessible than ever before. Sometimes having so many options, it can be tricky to figure out where in South East Asia to travel, and what kind of accommodation to choose from. No matter what budget you're on, we have made a selection of holiday experiences, and types of accommodation, to help you choose hostels over hotels in South East Asia.
City Action
Let's start with the cities in South East Asia, as you'll most likely arrive by plane. The cities here are overwhelming; lots of sounds, motorcycles, temples and plenty of things to see. What you'll immediately notice in South East Asia, is the heat and humidity; it can surprise some travellers. The cities can be bit hotter than other areas, because of the climate and busy streets.
The most lively cities to experience the real action are Kuala Lumpur, Bangkok, Singapore, Ho Chi Minh City and Jakarta. What these cities share is the thriving atmosphere, culture, history, and the millions of people that make these cities their home. If you want to meet travellers to explore the city, hostels are the place to stay, with many places offering dorms and breakfast. For a place to get some quiet, after a day of exploring city sites, then the major cities have you covered, with hotels to meet your comfort needs.
Nightlife
The bigger cities in South East Asia are known for their nightlife, with hotels having rooftop bars and hostels right next to party streets. But if you are looking for places with cultural experiences minus the traffic and millions of people, then travelling to smaller cities like Chiang Mai allows you to experience local night markets and street foods; there is also the annual lantern festival. Hoi An is located in the middle of Vietnam; the streets are lined with lanterns, food stalls and traditional bingo. The smaller cities have a range of hostels and family guest houses, which is a great way to have a cultural experience.
Island Vibes
South East Asia is famous for its tropical islands and many beaches, to enjoy the warm sunshine, and sand between your toes. Drink a fresh coconut juice while overlooking the ocean. Hiring a motorbike on the islands is a great way to explore the jungles, waterfalls and beaches. Bikes can often be hired through your hostel or hotel. They may offer helmets, but won't have motorcycle jackets because of the hot climate. You will find a mix of accommodation in South East Asia, especially on the islands, with places such as Koh Phi Phi, Koh Lanta and Koh Tao. They range from party hostels to luxury resorts with infinity pools, but if you want something unique, many of the islands have bamboo bungalows to experience island life.