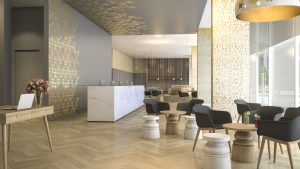 We've looked at the weird and the wonderful, the daring and the unusual, but let's not forget the cute, quaint, and family-run world of boutique hotels. The UK is full of many beautiful towns and cities to visit, especially for a country so small. And there's nowhere quainter than a boutique hotel or BnB in the English countryside.
Amhuinnsuidhe Castle, Isle of Harris, Scotland
That's right, you get to stay in a literal castle at this destination. A 19th century castle with a pretty tricky to pronounce name, there's nowhere quite like it. Scotland is full of rolling hills and incredible scenery, and this isle is no different. Small yet luxurious, the beauty of this boutique hotel lies in its surroundings, which must be seen to be believed. If you're looking for peace and quiet, this is it.
Beryl Country House, Somerset, England
To the other end of the country in the luscious farmland of South West England – Thomas Hardy country – lies this boutique. More specifically a country house, this Victorian Mansion is the quintessential English experience. With an impressive front, marble fireplaces, and as much afternoon tea as you'd like, the country house dates to the early 1800s and is a fine place to put your feet up.
Brimstone Hotel, Cumbria, England
To the North of England, this more modern hotel is situated in the Lake District, one of the most popular destinations for locals and tourists alike looking for a green getaway. Although modern, its appearance and style are still very much in keeping with its surroundings. Mixing new and old, indoor and outdoor, this unique 16-room boutique hotel hits the spot after a day of walking and hiking.
Twr y Felin Hote, Pembrokeshire, Wales
Just ten minutes from the lovely St. David's, this award-winning luxury hotel has a former windmill structured in the middle of it. The windmill suite itself is spread out over three floors with spectacular sweeping views of the nearby coast. That and 20 other suites are fully equipped with every modern amenity you might expect, making it an unexpected delight in the middle of an otherwise sleepy town. The food on offer on the menus are also particularly Welsh, with its bread, cheese, and meat sourced from local farmers.